Degrii Launches World's First Ultrasonic Robot Pool Cleaner on Kickstarter.
MENLO PARK, Calif., April 4, 2023 – Degrii pool-cleaning technology company
has successfully raised over $350,000 for a groundbreaking new robot pool cleaner on Kickstarter – the Zima Pro, the world's such product to feature ultrasonic radar. This next-generation robot offers an array of advanced features, including intelligent ultrasonic mapping, multi-surface cleaning modes, powerful suction, a floating battery system, and remote control via the accompanying app. The campaign will run until April 22.
The Zima Pro was first unveiled at the 2023 Consumer Electronics Show (CES), where it garnered widespread attention and praise for its unique features and advanced capabilities. Designed to stand out from other pool cleaning robots on the market, the Zima Pro's unique selling point is its use of ultrasonic radar technology, which allows it to efficiently navigate around the pool, avoid obstacles, and map out the pool's surface for optimal cleaning performance. The ultrasonic radar technology is especially effective underwater, where traditional cameras or sensors might struggle to function correctly.
To learn more about Degrii Zima Pro, visit its page on Kickstarter.
"We're proud to introduce the world's first cordless pool-cleaning robot with ultrasonic radar technology. Zima Pro is a game-changer that offers unparalleled cleaning performance and user-friendly features, such as the floating battery system and remote app control," said Dr. Fei Zhao, founder and CEO of Degrii. "The positive feedback from pool lovers on Kickstarter is a testament to the demand for innovative solutions that make pool maintenance easier and more enjoyable. We're grateful for their support and excited to bring the Zima Pro to market."
With its advanced features, user-friendly design, and commitment to sustainability, the Zima Pro is poised to revolutionize the pool cleaning industry. Degrii's commitment to innovation and eco-friendliness continues to set the standard for pool cleaning technology:
Its powerful motors generate a suction power of 250W to give strength of climbing up slopes, stairs, and walls with ease.
The dual-layer filtration system with ultra-fine 180um dual filters, and an active charcoal pack helps remove impurities from the water.
The robot can clean all surfaces of any size or shape of the pools, including the floor, walls, and waterline stains.
Zima Pro only needs 4-5 hours to get fully charged, with a long-lasting battery life of up to 3.5 hours of 5,000 square feet of cleaning area.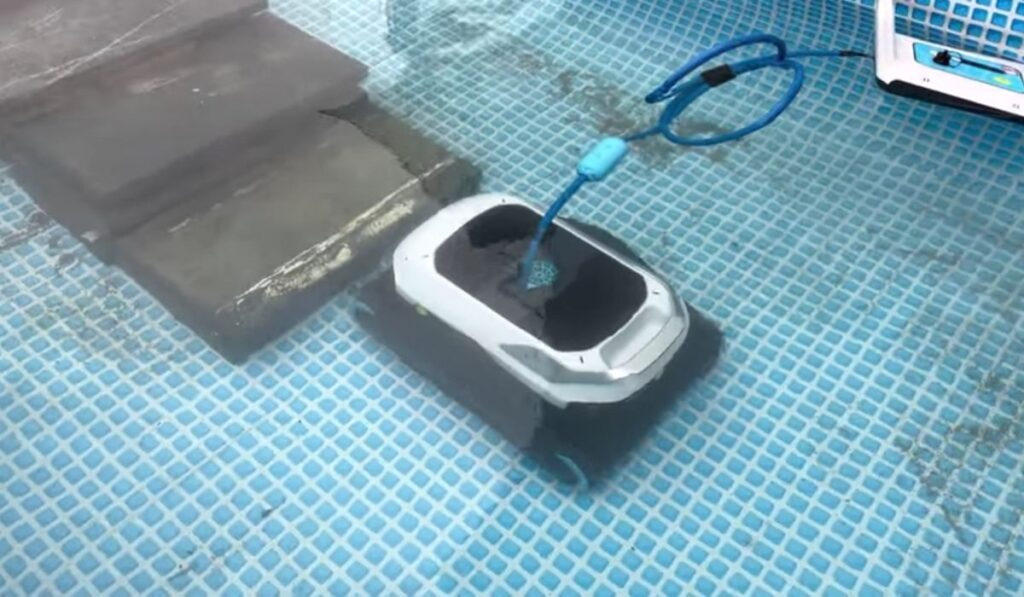 The Zima Pro is also incredibly user-friendly, with a floating battery system that allows it to remain buoyant in the water with the one-click setting, and a self-parking feature that makes it easy to collect when the battery going hit only 10% or lower of the power or completing the work. Users can control the robot via the accompanying app, which offers four different modes for customized cleaning, floor, wall, overall or manual. This remote-control feature allows users to program the Zima Pro to clean their pool from anywhere, at any time, making pool maintenance easier and more convenient than ever before.
Degrii's commitment to innovative and eco-friendly pool cleaning solutions is apparent in the Zima Pro's design, which is not only effective but also sustainable. By using the latest technology and a rechargeable battery, the Zima Pro eliminates the need for disposable batteries, reducing waste and protecting the environment.
With summer just around the corner, the Zima Pro's Kickstarter campaign is already a huge success, with several packages available starting at just USD 599 Super Early Bird kit. Early adopters will receive a significant discount on the Zima Pro's retail price, making it an affordable investment in pool maintenance technology.