Sony announces a new Playstation 5 with a slim design.
The new model offers option to add an Ultra HD Blu-ray Disc Drive to PS5 Digital Edition; the smaller PS5 design comes with a 1TB capacity for the PS5 and PS5 Digital Edition.
Table of Contents
October 10, 2023 – Sony revealed the PS5 model's arrival as the holiday season draws near. The technical and design teams at Sony worked together to create a new form factor that offers more freedom and choice in order to meet the changing needs of players. Along with an attachable Ultra HD Blu-ray Disc Drive and a 1TB SSD for greater internal storage, the PS5's technical features are condensed into a smaller form factor.
In comparison to earlier models, the new PS5 boasts a volume reduction of more than 30% and a weight reduction of 18% and 24%. There are four distinct cover panels, with the top section being glossy and the bottom remaining matte. If you purchase the PS5 Digital Edition, you can later add the Ultra HD Blu-ray Disc Drive for PS5 for 79.99 USD | 119.99 EURO | 99.99 GBP | 11,980 JPY.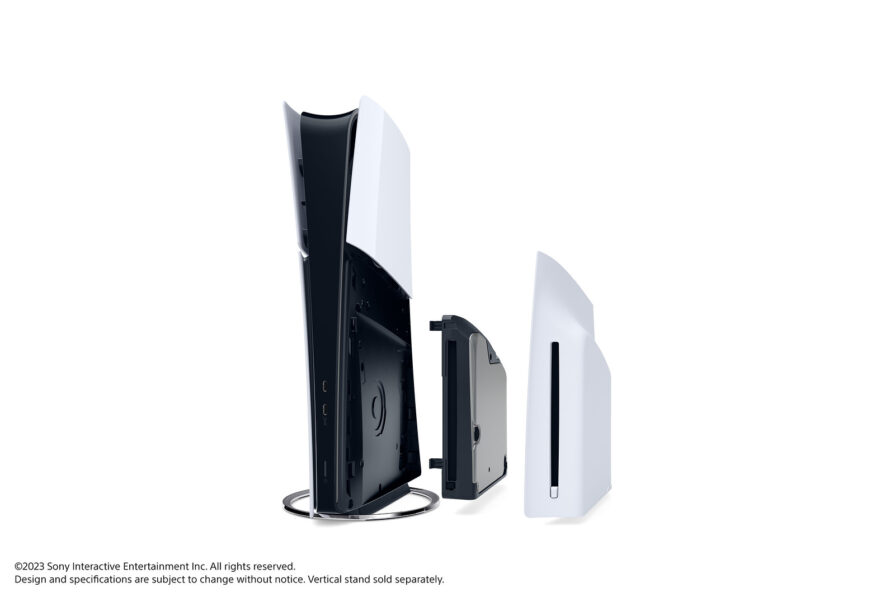 The new PS5 model will be available starting this November in the U.S. at select local retailers and direct.playstation.com where available. It will continue to roll out globally in the following months. Once inventory of the current PS5 model has sold out, the new PS5 will become the only model available.
The recommended retail prices for the new PS5 model are as follows, beginning with the rollout in November at participating retailers.
U.S.
PS5 with Ultra HD Blu-ray disc drive – 499.99 USD
PS5 Digital Edition – 449.99 USD
Europe
PS5 with Ultra HD Blu-ray disc drive – 549.99 EUR
PS5 Digital Edition – 449.99 EUR
U.K.
PS5 with Ultra HD Blu-ray disc drive – 479.99 GBP
PS5 Digital Edition – 389.99 GBP
Japan
PS5 with Ultra HD Blu-ray disc drive – 66,980 JPY (includes tax)
PS5 Digital Edition – 59,980 JPY (includes tax)
A horizontal stand will be included with the new PS5 model. Also a new Vertical Stand compatible with all PS5 models will be sold separately at 29.99 USD | 29.99 EURO | 24.99 GBP | 3,980 JPY.
Starting in early 2024, a selection of PS5 Console Cover colors for the new model will be available, including an all-matte Black colorway and Deep Earth Collection hues in Volcanic Red, Cobalt Blue, and Sterling Silver. The PS5 Console Covers will be priced starting at 54.99 USD | 54.99 EURO | 44.99 GBP | 7,480 JPY. More colors will be available in the future.
The release of Marvel's Spider-Man 2 is ten days away, with Alan Wake 2 and Call of Duty: Modern Warfare 3 following shortly after. With these terrific games on the way, along with recent releases like EA Sports FC 24, Assassin's Creed: Mirage, and Baldur's Gate 3, gamers will have enough to play on PS5 this holiday season.
PlayStation 5 specifications
External dimensions(excluding projecting parts)
Approx. 358 × 96 × 216 mm(width × height × depth)
Mass
Approx. 3.2 kg
CPU
x86-64-AMD Ryzen™ "Zen 2"
8 Cores / 16 Threads
Variable frequency, up to 3.5 GHz
GPU
AMD Radeon™ RDNA 2-based graphics engine
Ray Tracing Acceleration
Variable frequency, up to 2.23 GHz (10.3 TFLOPS)
System Memory
GDDR6 16GB
448GB/s Bandwidth
SSD
1TB
5.5GB/s Read Bandwidth (Raw)
PS5 Game Disc
Ultra HD Blu-ray™, up to 100GB/disc
BD/DVD drive
Disc Drive portequipped with Disc Drive
Video Out
Support of 4K 120Hz TVs, 8K TVs, VRR (specified by HDMI ver.2.1)
Audio
"Tempest" 3D AudioTech
Input/OutputFront of Console
USB Type-C® port (Super-Speed USB 10Gbps)
USB Type-C® port (Hi-Speed USB)
Input/OutputBack of Console
USB Type-A port (Super-Speed USB 10Gbps) x2
Networking
Ethernet (10BASE-T, 100BASE-TX, 1000BASE-T)Wi-fi: IEEE 802.11 a/b/g/n/ac/ax
PlayStation 5 Digital Edition Specifications
External dimensions(excluding projecting parts)
Approx. 358 × 80 × 216 mm(width × height × depth)
Mass
Approx. 2.6 kg
CPU
x86-64-AMD Ryzen™ "Zen 2"
8 Cores / 16 Threads
Variable frequency, up to 3.5 GHz
GPU
AMD Radeon™ RDNA 2-based graphics engine
Ray Tracing Acceleration
Variable frequency, up to 2.23 GHz (10.3 TFLOPS)
System Memory
GDDR6 16GB
448GB/s Bandwidth
SSD
1TB
5.5GB/s Read Bandwidth (Raw)
PS5 Game Disc
Ultra HD Blu-ray™, up to 100GB/disc
BD/DVD drive
Disc Drive port
Video Out
Support of 4K 120Hz TVs, 8K TVs, VRR (specified by HDMI ver.2.1)
Audio
"Tempest" 3D AudioTech
Input/OutputFront of Console
USB Type-C® port (Super-Speed USB 10Gbps)
USB Type-C® port (Hi-Speed USB)
Input/OutputBack of Console
USB Type-A port (Super-Speed USB 10Gbps) x2
Networking
Ethernet (10BASE-T, 100BASE-TX, 1000BASE-T)Wi-fi: IEEE 802.11 a/b/g/n/ac/ax